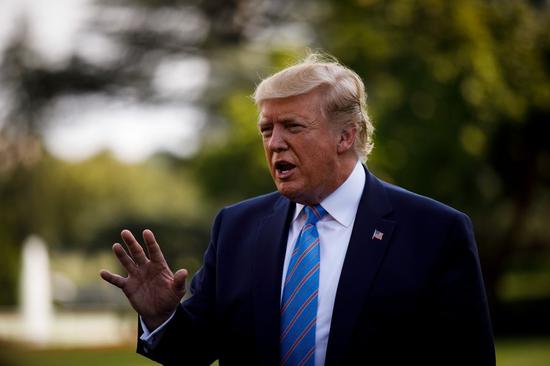 Photo taken on Aug. 2, 2019, shows U.S. President Donald Trump speaking to reporters before leaving the White House in Washington D.C. the United States. (Photo by Ting Shen/Xinhua)
Special: Battle Against Novel Coronavirus
U.S. President Donald Trump on Wednesday said that he considered convening the Group of Seven (G7) Summit at Camp David, which had been rescheduled via videoconference due to the COVID-19 pandemic.
"Now that our Country is 'Transitioning back to Greatness', I am considering rescheduling the G-7, on the same or similar date, in Washington, D.C., at the legendary Camp David. The other members are also beginning their COMEBACK. It would be a great sign to all - normalization!" he tweeted, without providing more details.
The abrupt announcement came as the Trump administration attempted to revive the country despite the lack of sign of a significant downward trend in COVID-19 infections.
The United States alone has reported more than 1.5 million infections and over 92,000 deaths as of Wednesday noon, according to a count by Johns Hopkins University. Both figures are far higher than those in any other country or region.
The White House said in March that the summit, originally scheduled to take place at Camp David in June, was canceled due to the coronavirus, and leaders would have a videoconference instead.